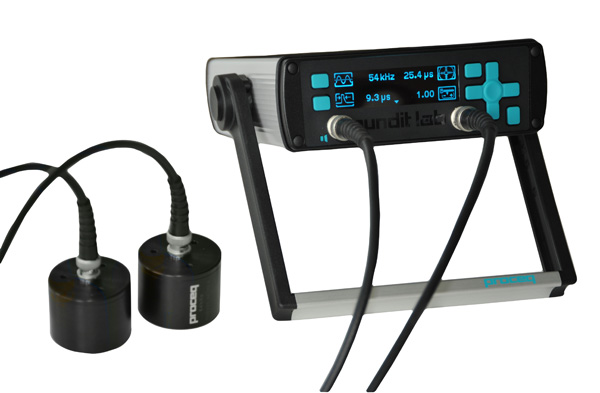 PUNDIT LAB
Pundit Lab Ultrasonic Concrete Tester
Introduction
The Pundit Lab is an ultrasonic pulse velocity (UPV) test instrument which is used to examine the quality of concrete. It features online data acquisition, waveform analysis and full remote control of all transmission parameters. Along with the traditional transit time and pulse velocity measurement, the ultrasonic test equipment Pundit Lab offers path length measurement, perpendicular crack depth measurement and surface velocity measurement. Optimized pulse shaping gives greater transmission range at lower voltage levels. This, coupled with automated combination of the transmitter voltage and the receiver gain, ensures an optimum received signal level, guaranteeing accurate and stable measurements. An integrated waveform display allows manual triggering of the received waveform.
It works by measuring the time taken for ultrasonic pulses to pass through the concrete from a hand held transmitter to a hand held receiver.
Voids and cracks in the concrete will lead to increases in time around the crack or void.

Description
Two transducers are fitted to the instrument by 3.6 metre cables, one acts as a transmitter for the ultrasonic pulses, and the second acts as the receiver.
Both transducers are held against the surface of the concrete using a coupling agent to ensure good pulse transmittance.
The transducers can be used above and below a concrete member when looking for voids.
For surface cracks or defects, both transducers are placed on the same surface, eg. on the top face of a slab.
Specification:
Measurement performance; Optimized pulse shaping, automated transmission settings for optimum performance and a range of new, more powerful transducers ensure accurate, stable measurements. Integrated waveform display; Allows analysis of the received signal and manual triggering directly on the instrument. On-line data acquisition; Full remote control of all transmission parameters, data logging function and functionality that turns your PC into an oscilloscope. USB interface and data analysis software; Data analysis and export to third party programs. Open interface; Control Pundit Lab using third party software such as LabVIEW.
Pundit Lab consisting of: Display unit, 2 transducers (54kHz), 2 BNC cables 1.5 m, couplant, calibration rod, battery charger with USB-cable, 4x AA(LR6) batteries, data carrier with software, documentation and carrying case.
Meets ASTM C 597-02, BS 1881 Part 203, ISO1920-7:2004, IS13311, CECS21, EN12504-4
Features:
Integrated waveform display Remote control: A USB connection and the Pundit Link application allow full remote control of all features of the ultrasonic test equipment Pundit Lab. Open interface: full remote control of the instrument is also possible with third party software Direct data logging on the PC Multiple Power Supply Options: the ultrasonic test equipment Pundit Lab runs on battery supply, mains supply via AC adaptor and can also be powered from a PC via the USB connection. Wide range of transducers: The ultrasonic test equipment Pundit Lab supports a wide range of transducers from 24 kHz up to 500 kHz, making it suitable not only for concrete and rock, but also for other materials such as graphite, ceramics, woods, etc. Exponential transducers for rough surfaces and shear wave transducers for estimation of dynamic modulus of elasticity complete the portfolio.

Further Documentation, including new features in Pundit Lab+
---