The Pro-Patch Model TCM 415-160 is a truck mounted, unitized asphalt patching machine capable of making effective and permanent asphalt repairs under all weather conditions. Its unique design allows the machine to transport hot or cold asphalt pre-mix material and road oils at controlled heated temperatures. The unit's integral hydraulic system, driven by a power take-off, provides power to operate the machine's jack hammer, screw conveyor, oil pumps, asphalt agitator, and a variety of other hydraulic tools such as concrete and asphalt saws, tampers, water pumps, tree trimmers, etc.
The Pro-Patch machine is equipped with a hydraulically driven screw conveyor for dispensing asphalt pre-mix materials. This method eliminates dump beds, shovelling and wasting of materials. A hydraulically driven asphalt agitator shaft is built into the pre-mix hopper to break up asphalt bridging due to transporting and vibratory compaction.
The machine's hydraulic pavement breaker is more than efficient for cutting out potholes and asphalt failures. The hammer is also equipped with a tamper show for packing asphalt and base material.
The integral tack oil system is capable of working asphalt cut back road oils and emulsions. The hydraulically driven oil pump has forward and reverse capabilities. After ray sealing the repair area, simply reverse the pump to scavenge the spray wand and lines clean. A diesel tank is built into the unit to flush the system if necessary. This tank is also equipped with a pump and sprayer to clean asphalt tools and diesel the asphalt pre-mix hopper.
If moisture exists, a 200,000 BTU hand-held torch is supplied to dry the repair area.
During working hours, the Pro-Patch machine is heated by electronically ignited 250,000 BTU and 200,000 BTU propane burners. During non-working hours, a 230-volt built-in immersion heater provides the heat to store and maintain heated pre-mix asphalt materials.
The unit body is fully insulated with industrial 2 inches high temperature insulation, and covered with a steel jacket. The insulating factor of this machine drastically reduces the use of heating fuel. During moderate temperatures, asphalt materials can be stored in the machine overnight without the use of the electric heater.
The LP gas burner and electric heating system is thermostatically controlled with a safety shut-off on the loss of flame or excessive temperatures. In summation:
The Pro-Patch provides all of the tools and materials necessary for a one or two man crew to make effective asphalt repairs, eliminating the use of air compressors, oil distributors, and dump trucks, which reduces the manpower, equipment maintenance, and minimize the amount of equipment used in high traffic areas.
The Pro-Patch, when properly utilised, will reduce the cost and increase the efficiency in street maintenance programs with 100% payback.
ASPHALT POTHOLE PATCHER SPECIFICATIONS MODEL TCM 415-160-DH
1. GENERAL
The Pro-Patch model TCM 415-160-DH is a unitized asphalt repair machine capable of making permanent asphalt repairs under most weather conditions.
2. BODY DIMENSIONS
The body is 112 inches long, 48 inches high and 78 inches wide. It has Diamond Tread safety step side fenders with two ladders, body assist handles, body has extra large stop, turn, emergency flashers with dual element integral lighting. The body has a lockable tool storage compartment measuring 83 inches long, 22 inches deep and 10 inches high. MUD FLAPS INCLUDED.
3.BODY INSULATION
The asphalt aggregate hopper and road oil tanks are fully insulated with 2 inches industrial, high temperature industrial insulation encased in a double steel jacket.
4. BODY INSULATION
The asphalt aggregate hopper and road oil tanks are fully insulated with 2 inches industrial, high temperature industrial insulation encased in a double steel jacket. The top is a double form fitted 2 inches insulated tarp with tie downs. Tarp material is capable of sustaining 500° degrees E or optional hydraulic steel top doors.
5.CAPACITY
The asphalt aggregate hopper holds 4.25 cubic yards level full or 6 tons maximum load.
6. HEATING SYSTEMS
The body shall have a dry radiant heat chamber, heated by 2 each 150,000 BTU retort tube propane burners with vertical exhaust stacks. The burners are thermostats controlled and regulated at 10 PSI. The ignition system is 12 volt DC with electronic ignitor. Gas burner has a safety shut-off on loss of flame or excessive temperature. Automatic safety shut-off when diesel pump is operating. Burner has two stages, ignites on 10-oz. pressure, and operates at 10 PSI, on high burn regulated by the same thermostat as the electric heater. Thermostats will be 0/300°F. Solid state.
7. ELECTRONIC CONTROLS
All electronic controls will be solid state shock resistant. Thermostat for tack oil tank is 0/250°17. Thermostat for asphalt aggregate hopper is 0/300° F. All thermostats have built in high limit safety shut down switches. Same thermostat controls the 12-volt LP gas fired system and the 220-volt electric heating system.
8. LIQUID ASPHALT OIL TANK CAPACITY
The tank capacity is 150 gallons. The tank is capable of working emulsions or asphalt cutback oils. It has a double steel jacket with 2 inches insulation. The tank is heated with a submerged retort tube with minimum 3 inches oil level above retort tube. Burner is 200,000 BTU, regulated @ 10 PSI, thermostat controlled, 12 volt DC electronic ignitor with safety shut-off on loss of flame.
9. LIQUID ASPHALT TANK AND RE-EMULSIFYING SYSTEM
The liquid asphalt pump and all liquid asphalt lines are in an insulated, heated area. Tank has a built in AUTOMATIC RE-EMULSIFYING SYSTEM to help prevent the emulsion oils from separating. Water can also be added to thin the emulsion oil. The tank has 230-volt thermostat controlled electric heater. Unit has a HOT WELL for storing spray wand in cold weather. ATTN: NO MIXING PADDLES. MIXING PADDLES WILL NOT RE-EMULSIFY EMULSION OILS.
10. ELECTRIC HEATING SYSTEM
The asphalt aggregate hopper and liquid asphalt oil tank is heated by a 220 volt, 62 kW immersion heater, thermostat controlled with 25° of cord. The heating system is capable of maintaining heated material during non-working hours.
11. FUEL
100 lb. (25 gallon) removable propane bottle, complete with 10-PSI regulator.
12. TEMPERATURE GAUGES
The unit has two 3 inches dial type, stainless steel temperature gauges that constantly monitor the temperature of the asphalt hopper and road oil tank.
13. HAND TORCH
The unit has 200,000 propane BTU hand torch with shut-off valve and 10 ft. of hose with mounting bracket for transport.
14. LIQUID ASPHALT OIL PUMP
A hydraulically driven, 1-1/2 inches self-priming, variable speed, reversible, rotary gear pump with relief valves. Operating conditions 20 GPM @ 1200 RPM.
15. PAVEMENT BREAKER
We offer optional Stanley BR45, 72, 67 and 87 pavement breakers, complete with asphalt cutter, tamper and detachable shank.
16. LIQUID ASPHALT HAND SPRAYER
A 5° x 3/8 wand, equipped with fan nozzle and Deadman control valve. Sprayer hose is 15° x 5/8 inches with a reversible pump and diesel flush system for cleaning pump and lines.
17. HYDRAULIC PUMP
The pump is gear type, variable speed at 12 GPM and has an operating pressure of 2000 PSI @ 900 RPM.
18. HYDRAULIC OIL RESERVOIR
30-gallon capacity with sight and temperature gauge, ventilated fills cap, 100-sump strainer and a 5-micron return filter.
19. HYDRAULIC OIL COOLER
A Hayden Temp-Troller Electra Cool Hydraulic Oil Cooler. The fan cooler operates on 12 volt DC and is thermostat controlled.
20. HYDRAULIC HOSE AND FITTINGS
All hoses and crimped fittings have a minimum of 8000-PSI burst pressure.
21. HYDRAULIC CONTROL VALVE
Five spool, two ways, variable flow with 2000-PSI relief valve. The valve controls hydraulic screw conveyor, hydraulic doors, Asphalt agitator, liquid asphalt pump and tool circuit. The valve is operated from rear of machine by remote levers. To reduce Maintenance problems the valve has no electric solenoids.
22. SCREW CONVEYOR
10° long by 6 inches diameter screw conveyor has 4 inches spaced hard surfaced flights welded continuously on 2 inches scheduled 80 pipe and Is ball bearing mounted. Conveyor is driven by 9200-in. lb. of torque variable speed hydraulic motor with forward and reverse.
Shall have a delivery chute with 120 degrees of pivot to allow for curbside dispensing and shovelling pan.
23. ASPHALT AGITATOR
The agitator shaft is built into the premix hopper and designed to break up asphalt bridging due to vibratory compaction. The Scheduled 80 shaft has 12 spikes and is ball bearing mounted and driven by a 9200 in. lb. of torque variable speed hydraulic Motor with forward and reverse.
24.HYDRO THROTTLE CONTROLS A Muncie Hydro-Throttle control insures immediate and correct hydraulic pressure on demand. Unit is also equipped with manual rear override if truck engine is not fulling electronic controlled.
25. P.T.O.
The power take off unit is a Muncie Cable Shift or optional Electric over Air Shift.
26. DIESEL FUEL STORAGE TANK
An 18-gallon capacity tank equipped with a 12-volt DC pump and a hand sprayer for cleaning tools and unit. There shall be a Connector valve for flushing road oil pump and lines.
ASPHALT POTHOLE PATCHER SPECIFICATIONS MODEL TCM 415-160 OPTIONAL EQUIPMENT
1. SPOILS BIN
The spoils bin is 36 inches wide with 1.16 cubic yard capacity, gravity dump. Asphalt spoils may be loaded or discharged from both sides of the truck.
2. VIBRATORY COMPACTOR PLATE
Shall be 4.6 hp gasoline engine with oil alarm protection. Operating weight 190 Ibs. Centrifugal forces 3250 Ibs. Plate size 19° x 21°. Equipped with water tank and locking holding brackets.
3. ELECTRIC HOIST
For loading and unloading vibratory compactor. 12 volt DC. 1-1/3 hp. Lift capacity 300 Ibs.
4. VIBRATORY ROLLER
Shall be Bomag BW 55 E. Engine 4.5 hp. Operating weight 351 Ibs. Single drum vibratory roller 22 inches wide. Centrifugal clutch, water tank. Centrifugal force 2250 Ibs.
5. HYDRAULIC REAR LIFT PLATFORM
A hydraulically operated lift platform for loading or unloading compactor plate or roller. The platform has a safety latch in the Up position, and an in-cab platform down indicator light, with compactor hold-down brackets. The platform has optional Automatic return. All controls for platform are at the rear of the unit.
6. HYDRAULIC OPERATED STEEL DOORS
Two hydraulically operated bi-fold steel doors. Doors are insulated with 2 inches of high temperature insulation in a double steel jacket.
The doors have rain seal caps and flex plates to keep asphalt out of door hinges. Each door shall have a hydraulic cylinder with Bypass and flow control valves. The controls for doors are mounted behind truck cab.
7. WATER TANK
A frame mounted 8 gallon tank with rust proof liner, valve and hose. Water supply for asphalt compactor plate.
8. DRIP PAN
A 10 gallon drip tank for waste oil combination mounted on the unit with necessary valves for draining.
9. FRAME MOUNTED L.P. GAS BOTTLE
A frame mounted 35 gallon capacity L.P. Gas bottle with quick fill connector and sight gauge.
10. STROBE LIGHT
Shall be pedestal mounted Peterson MFG Model 760.
11. DIRECTIONAL ARROW BOARD
The standard optional arrow board is Traffic Guide with arrow flashing left, right and warning bar. The board is mounted on the Rear of the patch unit with in-cab controls.
12. PAVEMENT BREAKERS
A. BR 45 lb. hydraulic hammer
B. BR 72/59 lb. hydraulic hammer
C. BR 67 lb. hydraulic hammer
D. BR 87 lb. hydraulic hammer
13. SAND SPREADER
The sand spreader assembly includes sanding chute, spinner, hydraulic motor, hydraulic lines, and quick couplers and connecting Fittings.
The controls for the sand spreader are in the cab of the truck.
14. HYDRAULIC AIR COMPRESSOR
A 25 SCFM at 100 psi hydraulic air compressor with quick couplers, air hose, control valves and blows gun.
15. AIR COMPRESSOR HOSE REEL
Hose reel and air blowgun has 20 ft of hose. Reel is spring loaded auto-retractable.
16. DIESEL FUEL HOSE REEL
Hose reel for diesel fuel spray want has 20 ft of line. Reel is spring loaded auto-retractable.
17. HYDRAULIC TOOL LINE HOSE REEL
Shall be 3200 psi with duel 25° hydraulic tool lines. Reel is spring loaded auto-retractable.
18. ASPHALT EDGER
Edger is designed to repair deteriorated shoulders on highway. Screw conveyor assembly is ball bearing mounted, conveyor is Driven by a hydraulic motor with forward and reverse capabilities. Edger is powered with a 21 hp diesel engine with direct Mounted hydraulic pump. Unit mounts to rear of patch truck with 4 bolts. Has separate asphalt chute hydraulic splitter valve to Allow separate control from hopper screw conveyor to side deliver screw conveyor. Screw conveyor is fully enclosed for safety.
19. HEAT TRANSFER OIL SYSTEM
Bodies also available with Heat Transfer Oil System.
TRUCK APPLICATION
GMC-C7000 / FORD F800 SERIES OR EQUIVALENT TRUCKS SAND SPREADER ASSEMBLY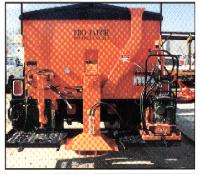 MINIMUM AXLES and SUSPENSION:
Front axle - 9000 lb. capacity
Rear axle - 21,000 lb. capacity
Auxiliary springs for load stabilization only.
Front springs - 9000 lb. capacity
Rear springs - 23,000 lb. capacity
FRAME:
18.0 S.M.
TIRES and WHEELS:
Wheels - Disc 10H steel 22.5 x 7.50 1 PC
Tires - Radial 11R22.5 - 14 ply. hwy.
TRANSMISSION:
Allison Automatic or Standard
ELECTRICAL EQUIPMENT:
Alternator - 90 amp
Battery - 12 volts, -2 each
COOLING:
Heavy duty radiator
30,000 Ibs. to 32,000 Ibs.
(NOTICE) CAB TO AXLE:
Basic unit with spoils bins - 138 inches C.A.
Basic unit without spoils bins - 120 inches C.A.