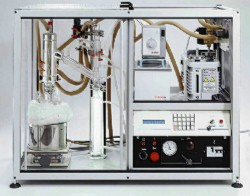 DISTILLATION OF PETROLEUM PRODUCTS
AT REDUCED PRESSURE
ASTM D1160 - ISO 6616
This test method covers the determination, at reduced pressure, of the boiling temperature ranges of petroleum products that can be partially or completely vaporized at a maximum liquid temperature of 400°C (750°F) at pressures of 50 to 1 mm Hg (6.55 to 0.133 KPa) absolute.
Half-automated instrument built on a dedicated frame which allows components to be easily reachable.
Computerized controls of both temperature and pressure (between 1 and 50 mm Hg).
Sample identification and distillation datas automatically recorded and printed (temperature, volume, pressure, AET, flow rate).
Computerized nitrogen degassing at test end or by watch dog button in case of fire or explosion. Nitrogen should be supplied locally by a bottle or laboratory distribution.
Ready-to-use instrument including glassware with leakfree and easy-to-clean spherical joints, supports and clamps, heating mantle with lift, Pt 100 sensor, absolute vacuum detector, vacuum tubing, receiver with illumination, cold trap with 12 ml graduated receiver for light products, using carbon dry ice or external «cold finger» type cryostate (as option), vacuum pump, water circulator and technical compartment with control keyboard (20 keys), 2 line LCD display, heater control, emergency button, nitrogen admission stopcock, pressure manometer, vacuum gauges and controller.
Operator is expected to sit in front of instrument during the 25 mn distillation process.
Regarding safety the operator is protected by sliding transparent panels and a moving roof.
A Fully Automatic Version is Also Available
The instrument complies with the European Directives regarding operator and Environment safeties and is therefore bearing the CE label.