COVERMETERS
---
Concrete cover meters are used to help with monitoring the deterioration of concrete structures due to corrosion of the reinforcing steel.
There are two major causes of corrosion. These are carbonation coupled with insufficient concrete cover to the steel reinforcement inside the concrete.
The concrete is (initially) sufficiently alkaline to protect ("passivate") the reinforcing steel against corrosion.
Carbonation begins on the very day that the concrete is first exposed to the air as carbon dioxide and damp in the atmosphere become mixed with certain products in the concrete and bring about chemical changes.
When the carbonation front reaches the steel, the alkaline protection is lost, so corrosion starts -- and this will be accelerated if any de-icing salts have also migrated in from the exterior.
This process is nearly always worse where the concrete cover to the steel reinforcement is not deep enough.
When inspecting concrete for carbonation and deterioration, a reliable cover meter is needed to locate the reinforcement and record the depth of the concrete cover.
Why Protovale cover meters?
Protovale (Oxford) Ltd is now the world leader in the design and manufacture of cover meters and rebar locators.
The company was formed 18 years ago to exploit the Pulse Induction technique of metal location first developed in the laboratories of Oxford University, England. It has since perfected the science from an academic breakthrough to a series of reliable tools for detecting metal in the harsh world of reality.
Unlike most other cover meters which use a temperature-sensitive magnetic core inside the search head, Protovale's CoverMaster® cover meters send pulses of current through air-cored search coils.
At the end of each pulse, electric currents are induced around the circumference of the rebar (if one is present) and the persistence of these currents causes an "echo" to be received by the search head during gaps between transmitted pulses.

This Pulse-Induction Eddy-Current Conductivity technique is uniquely stable and is not affected by either the ionic effects of moisture in wet concrete or the susceptibility of magnetic aggregates, and is immune to temperature variations and electrical interference.
Protovale's new CM9 CoverMaster® cover meter comes with the very latest "state of the art" microprocessor technology and the CM52 CoverMaster® cover meter is the world's most accurate instrument for measuring concrete to steel reinforcement, not just during laboratory test but also under complex and congested site conditions.
The CoverMasters are already acknowledged as the best-performing general-purpose precision cover meter available today. this is because it achieves its design specification to maintain accuracy to within the stricter of the two limits quoted in BS 1881:204 under all realistic site conditions.
---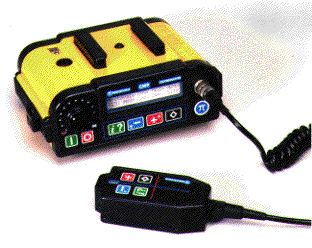 Utilizing the most advanced technology, the new CM9 has many features that cover meter users have long waited for.
It "thinks for itself". While indicating cover for the bar diameter that the user has preset, the instrument's internal microprocessor automatically and simultaneously shows its own estimation of bar-size and cover, thereby eliminating errors.
It is easy to use as the LCD read-out has back lighting for easy reading, even under poor light conditions, and its full textual screen ( see below ) also displays operating instructions and short-form prompts. There is not need to keep consulting a user manual.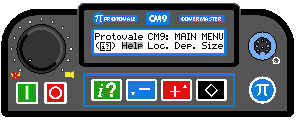 In addition to its full textual screen, the CM9 also has three audible signals to indicate: "proximity of bars", "precise location of bars" and "bars with less than a preset cover". A headphone socket is also fitted as a standard feature for noisy site conditions and the instrument has provision for adding an output interface to a printer or data-logger.
The CM9 has automatic "bar-sizing" using two different techniques: the exclusive world-first "autosize" for continuous measurement of cover to bars of unknown size, together with estimation of bar size; and "orthogonal" for precision measurement of the diameter of a single bar.
The instrument benefits from true one-handed operation with an ultra-bright LED mounted on the search head for easy bar locating. In addition, just four buttons control all the CM9's functions and these are duplicated on the search head.

Fast scanning saves valuable time and money.
The CM9's rugged design is tough, yet light and easy to handle. The compact search head clips neatly on to the control unit when not in use.
The CM9 is highly stable and accurate even at close bar centres and is unaffected by changes in temperature and the close proximity of other metal structures.
As well as these new exciting features, the CM9 incorporates all the advantages that the latest "Pulse-induction" technology has to offer.
The CM9's performance
The CM9's range of measurement spans from less than the lowest cover to greater than the highest cover specified in all National standards. It maintains accuracy well within BS 1881: 204 and DGZfP: B2 over the full range of covers specified in EC2, DIN1045 and CP110.
Max. Detection Range               Depth measurement

105mm with standard head;          7-90mm with standard head;
200mm with optional large head.   20-180mm with optional large head.

Range of diameters

5-50mm (21 possible diameters )
Up to General Cover Meter Info, or . . .

Go to top of page

Return to Home Page

---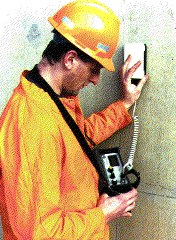 . . . .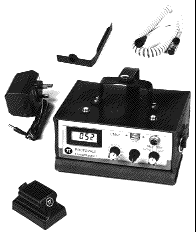 The CM52 is a cover meter of quality. Using the very latest Pulse Induction technology it gives unequalled accuracy and reliability time after time.
It is built for site work and housed in a hard wearing leather case so will give many years of rigorous usage.
Realistically priced, the CM52 will easily pay for itself many times over.
With its standard head, the CM52 can resolve bars and measure cover at closer pitches than any of ts rivals with their large head -- for example, 50mm cover and 75mm pitch between centres (less than 60mm spacing).
With the midget head, the figures are scaled down dramatically -- for example, T10 bars can be reolved and measured at 15mm cover with as little as 30mm centre-pitches (a mere 20mm separation between bars).
Features:
Accuracy plus-or-minus 1mm (midget head)
Unique technology for accuracy and stability
Unaffected by moisture or changes in temperature
Depth reading up to 100mm -- all that is required for reinforced concrete!
Direct LCD read-out
Loud audible signal
Quick auto-scanning
Bar-sizing
Rugged construction
Lightweight, less than 2Kg
Headphone socket
Output for any commercially available data-logger.
Optional extras:
Midget head for areas of low cover, precast units and reinforced concrete pipes.
ABS carry case to house all items.
---

Up to General CoverMeter Info, or . . .

Go to top of page

Return to Home Page