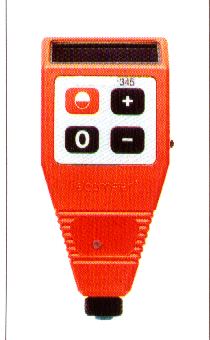 COATING THICKNESS GAUGE
Ferrous and Non-Ferrous
DEFINITION
The rugged FNF 4-KEY COATING THICNESS GAUGE is very simple to use. The easy to read display and ±1% accuracy of the portable makes it the unit of choice for any job site.

The FNF Model in rough surface calibration mode, uses averaging to allow meaningful readings to be taken on irregular surface profiles.

The equipment has auto substrate selection for ferrous or non-ferrous metal. No matter if you are painting, anodizing, or powder coating, this gauge will measure it.
SPECIFICATION
Range : 0 -60 mils
Resolution : 0.1 mils
Accuracy: ±3% of the reading
Measuring rate: >35 to 40 hrs of continuous use
Dimensions: 4.75inch x 2.2inch x 0.95inch
Wight: 4oz
FEATURES
Automatic switch off after 60 seconds to save battery
Rough surface calibration, using averaging, giving meaningful readings for irregular surface profiles
Units switchable between metric and imperial
Model available with or without data output and backlight options

Ferrous and non-ferrous, integral probe, range: 0-60 mils Includes: carry case, precision shim set, neck strap, batteries and instructions