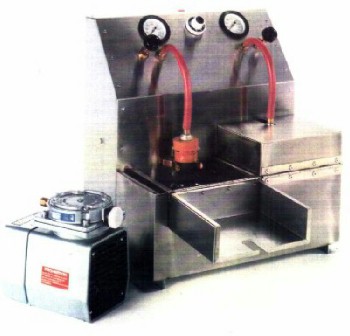 ASPHALT BINDER RECOVERY APPARATUS BS598
BS598
Specification: A stainless steel water bath is fitted with a safety ejecting heating element, a water level control weir and hinged covers to each flask.. The unit is complete with a single vacuum control valve and a gauge calibrated in mm. hg. A simmerstat with neon. indicator controls the heating element Twin 250ml wide neck extraction flasks are connected through a reservoir to a remotely mounted vacuum pump with a three meter long connecting hose. The unit is complete with a two meters of cable for electrical connection and two meters of hose for connection to a water. main and drain.

Finish: coating: 1 Bright stainless steel and black powder

Reference Standards: BS598

Physical Dimensions 46cms Long. 35cms Deep. 40cms high.

Standard Electrical Supply: 220/24Ov. 1ph. 50hz. 13amps.

Shipping specification: Gross Weight. 22kg . Volume. 0,08 Cub.m.
Please Note this equipment has now been redesigned for simpler operation using only a single control manifold, not the two as shown in the photo.